FAQ
Frequently asked questions
Do I need resevations for tastings.
---
Carmela's Winery seating capacity is 99. You don't need reservations for any tasting. If the big doors are open come on in!
---
Do you serve food?
---
We are working on a menu to be lauched later this year early next. HOWEVER, we have several fabulous restuarnat downtown. We encourage you to order out and BYOF. Jimbo's and Dominos deliver. Download the LifeConnected App to order online, take out and bring in. If you just want to snack, bring it along we have plenty of seeting for everyone.
---
Reserve your bottling party!
---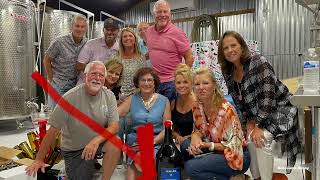 Ask about our Tap a Bottle Party for you and your 10 to 12 closest friends. Your oder indcludes one 12-liter bottle 2008 Demarie Barbera d'alba. You turn it into Turn 16 750ml bottles.
Eat, Drink & be Merry! Enjoy your friends and have a great evening at:
Carmela Winery 132 N Louisiana Dr, Celina, TX 75009 Call for Reservations 8442279463
---
Can we bring our kids?
---
Because we are a Winery that manufactures, distributes, and sells wine you must be 21 years or older to enter.
However, we are directly across the street from Founders Park with a great playset. You are welcome to purchase a glass and sip in the park. Celina allows open alcohol containers downtown.
---
Do you serve sweet wine?
---
Our flavor profile includes dry reds, whites and roses. Depending on the grape you will enjoy crisp satisfying whites and roses that enhance the flavor of the fruit.
Carmela Winery's Pinot Noir, Nero d'Avelo, and Sangiovese are all made in house using Italian grape juices into dry flavorful reds we know you'll enjoy.
In addition, we pick and choose extraordinary red and white wines that fit our flavor profiles, in limitted quantities, and generally not found in commercial grocery or beverage stores.
We rotate your choice of a great wine tasting experience often.
---
Book a Private Party Today
---
Winery Weddings, Conferences & Special Events
Planning a corporate, family event, wedding reception or meetup?
The spacious rustic winery at Carmela can accommodate your indoor private events for groups small and large (up to 99) Carmela Winery can host your next event! Accommodating up to 99 guests, Carmela Winery is an intimate, elegant, and rustic setting for memorable events. Located in Celina, TX North of Dallas about 45 Minutes on the Tollway. "A perfect place for our company to have our events! They are flexible and can work with any budget. The best part is, we meet here on a regular basis for monthly meetings so we've gotten to know Joe well. Great place! – Susan
---
---